If you love fantastic coffee from the region where it all started, you can enjoy this Ethiopian speciality coffee tin at home. Full of flavour, this natural coffee is a Just Gaia signature bean.
Many of our customers come just to get some more of this unique and special coffee from the cafe. Now, you can all enjoy this from home!
The smoothness mixed with the fruity edge makes for a smooth taste but with a hint of red wine. It's great for a wake up in the morning or a nice after-dinner coffee.
Certainly, therefore, one to make your guests happy (when we are allowed that luxury again!)
So, if you fancy picking up this Ethiopian speciality coffee tin you can grab it as whole coffee beans or freshly ground in-store. Coffee is ground to order in our shop to ensure it's as fresh as can be when you make it.
Sound like something you'll like? To make it easy, you can use the quick button below to add on a single click. If you need an alternative option, please use the link buttons to our grind-to-order coffee or coffee refills.
Add To Your Basket  I Want This Ground Instead  I Need a Refill
Ethiopian Speciality Coffee Tin – Coffee Flavour
This single origin gives you a vibrant but smooth taste with a flavour of fruitiness that borders on red wine in its sharpness. It's a huge favourite in the Just Gaia cafe on one of our personal favourites.
This works beautifully as an espresso with the flavour making it through nicely. Really take time to slowly brew this in a french press at home to get all of that smoothness out.
Roasting
This coffee is roasted at the Bean Brothers roastery in Huddersfield and uses ethically sourced beans.
Everything is roasted in small batches and to the freshest, we can get it for you, with us making regular orders for this to arrive in store at it's best. This coffee is roasted medium to dark using a mix of natural beans and washed.
Metal Clip Lock Tin Packaging
As you likely know already, we are a plastic free shop and do everything we can to be sustainable with what we do. This extends to all our speciality coffee too.
With this option, you will receive your coffee in a metal clip lock tin. These are reusable and single-use plastic free and great for storage at home. Once you have one they are reusable, you can feel free to buy refills from us to the same quantities and reduce packaging.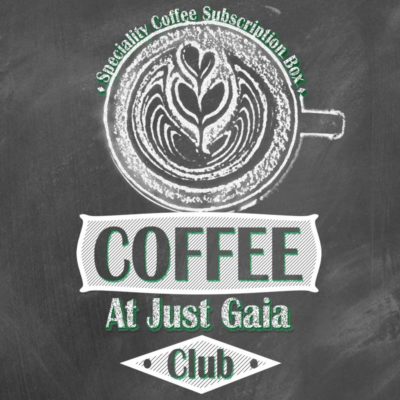 Our Thoughts…
Quite simply, this is one of the best coffees I have ever tasted. As espresso or as coffee made in a press at home. It's just so full of flavour and really moreish.

This was so good, my non-coffee lover wife, Natalie strated drinking coffee for the first time in her life thanks to this amazing bean! it's that good it can convert you!
Ross, Just Gaia's resident coffee lover
More information about ordering with Just Gaia