On Yer' (Electric) Bike Halifax…
Not exactly the same meaning as that lovely Yorkshire phrase in this case Just Gaia Family! This is all about the new Just Gaia local delivery service via specialist cargo bikes for zero emissions and carbon neutral delivery.
In this latest update we're going to be talking about:
Cargodale, the awesome team we're working with to bring you this service.
What you can order, including the contents of the Just Gaia online shop that you can order
How it works, a look at how it's going to work for you all to get this service to home or your place of work in Halifax
How much it will cost, which is an easy number to remember since for the introductory period it's going to be £0!
Check out the full blog post below and if you know someone who would benefit from knowing more, please let them know about this article with the social media sharing options.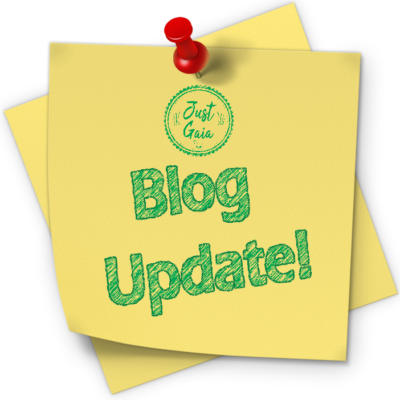 Here are all the sections of this blog update as we get Just Gaia open properly again.
Click any of the bullets below to jump to that section or simply scroll down to read everything.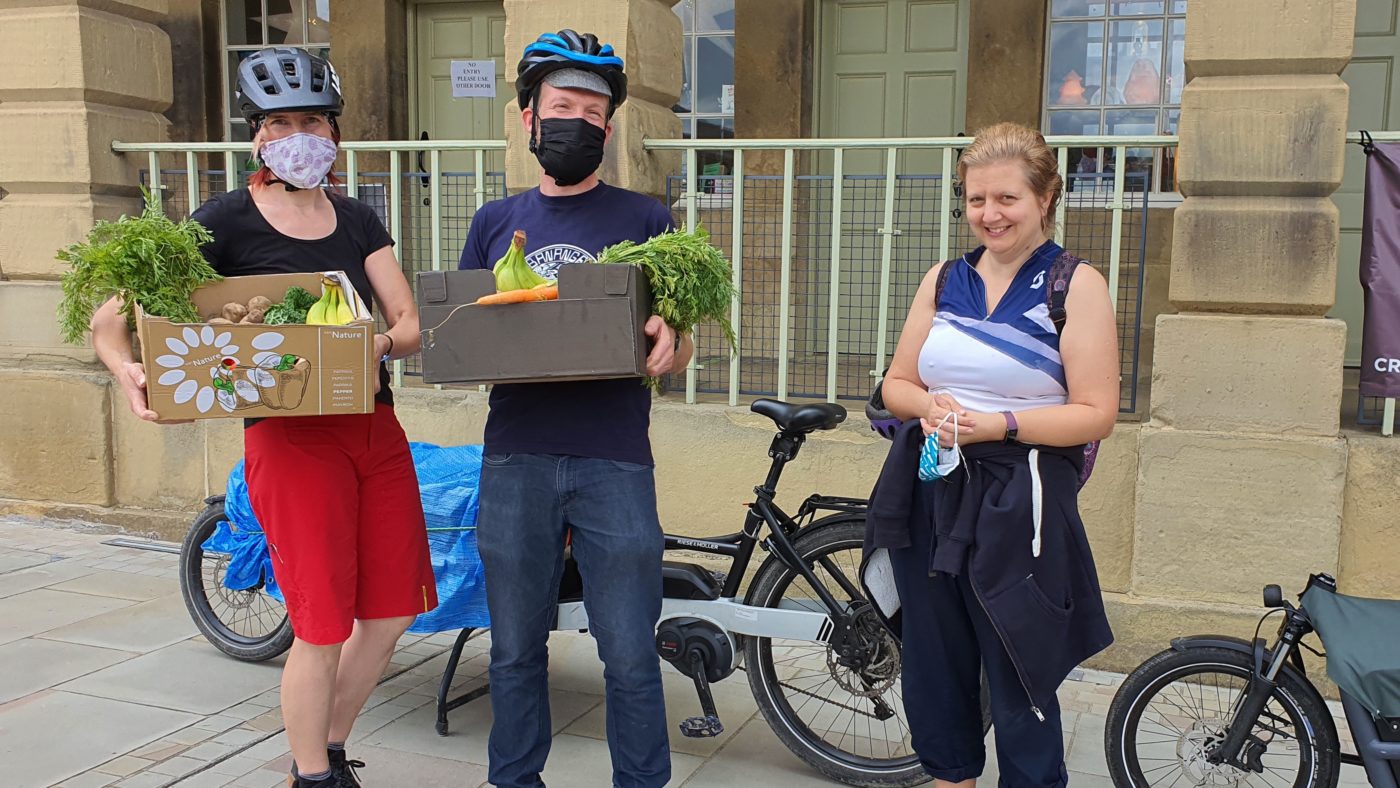 A look at our friends at Cargodale
These awesome guys were full of smiles while we loaded up the first ever delivery with them at the start of August, 2020.
It's always been something we have had in our plans to offer since we opened Just Gaia in October 2019.
While it wasn't going to be this soon initially, once we had a lockdown and a pandemic in our first 6 months of opening… Our plans somewhat speeded up!
Enter the lovely team at Cargodale, you can find out more about the Cargodale vision here and their blog has more on their bikes too.
Below is how it all works with us here at Just Gaia.
We Wheelie Love The Bikes
These bikes are exactly the kind of idea we love to see. As you can see from the picture below, it's pretty cool and almost makes up for the awful pun you're trying to forget about.
Of course, bikes have been used for a long time for local delivery services for centuries.
It's held in tradition from the famous bread advert back-in-the-day and newspaper rounds back when everything wasn't just on your phone.
But times move forward, and we've been spoiled a little bit with super speedy delivery from massive companies on national and international scale.
As with many zero waste ideas, sometimes the solution lies as much in the past as it does in the future.
So here comes the best of both. A cargo bike that means we work locally but with specialist design and electric power to help get to you quickly and up those many, many hills around here.
Considering the types of vehicles used by companies for delivery are still diesel based, this is a change we all need to see and Just Gaia wants to be at the heart of.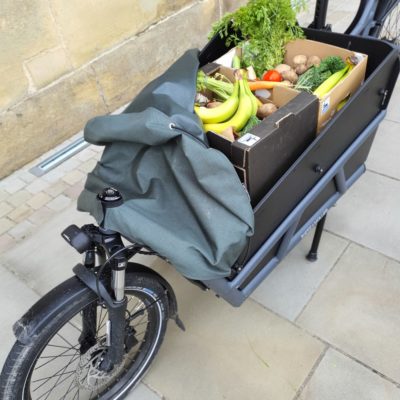 Just Gaia Organic Fruit and Veg Boxes on the Cargodale electric cargo bike.
What you can order and when
This is the section of the blog we recommend you bookmark. Particularly in this period where both Carogodale and ourselves are working on the details.
As things presently stand is in the list of Halifax postcode areas here:
HX1 – HX2 – HX3 – HX4 – HX5
We'll keep updating this area for you as we learn more so keep an eye out on Facebook, Instagram, Twitter and TikTok for news.
Just Gaia Local Delivery Service Breakdown
Initially we're taking orders will be delivered on Thursday and Friday – You will be able to choose your preferred day at Checkout
What you can order
Delivery days and times
Cargodale will be collecting orders from 2pm on Thursday and Friday from Just Gaia in The Piece Hall due to when our deliveries arrive for certain items.
From there they will begin a round of deliveries so we would ask to be Available from 2:30 PM if you wish to receive your order in this way.
Please note, this does not have to be your home address. We are happy to bring your items to your place of work or another Halifax address if this is more helpful.
To do this, simply add a separate delivery address at checkout. More on this below.
Click and Collect
As we have been operating since lockdown, just a nice reminder you can also choose collection as an option.
This means you can come into The Piece Hall and pick up your prepared order similarly to above, with anything available on our online shop available to you to order.
If you are in Halifax town centre regularly anyway, it would be lovely to see you in Just Gaia where possible.
How local delivery works
We've tried to make Just Gaia local delivery as easy as possible to use, so it's right here on JustGaia.com.
You can order for delivery in Halifax areas: HX1, HX2, HX3, HX4 and HX5.
This is determined at checkout so it's best to decide what you would like and add you your basket as usual.
Then, once you have everything together the Just Gaia shop robot will offer you delivery based on your address.
This can be either your home address or an alternate delivery address (like your work address),
To get the options you need to:
Head to your basket full of amazing plastic free and zero waste items
Check your order then click Checkout
Enter your email and name etc and then add your home address including postcode
If you live in the correct area you'll be able to select from the shipping options
Now you can choose Cargodale local delivery for the day that suits you best
Once you pay securely with card or PayPal you're done!
Video Guidance
Since it was all very new to us and our customers we recorded a nice video to show how it all works.
Ross added his (overly Yorkshire) voice to go over how you can:
Add things to your basket
Change the delivery address
Select Cargodalet delivery on a prefered day
Yes… It's Free! For now anyway
That's all you have to do for now Just Gaia Family. And while Just Gaia local delivery is in it's trial, we'll be offering this for free thanks to Cargodale.
This means you can try it out and see how it works for nothing.
We'll be updating with pricing once the trial period is over which is likely to be in the next few weeks from publication.
Extended Just Gaia Family
We know some of you are part of the family even though you don't live in these areas.
Rest assured this ins only the beginning of a service that's going to be expanding quickly. We are currently using this period of time to get feedback from Cargodale and those of you who do order.
We are planning to update further in September on
Just Gaia Local delivery
We will have an update on pricing and available postcode areas early September to let you know:
How much delivery is per order
What postcode areas we can add to the list currently available
Courier Delivery
Our next big development in this area will be spreading beyond the local region and delivering to your door wherever you are.
This needs to meet our plastic free and zero waste philosophy which we are working on right now. But what's also key for us is being at least carbon neutral.
After all, there is no sense in us being another additional pollutant out there after working so hard to be different to other companies.
More on this will be coming in September too so for anyone interested, the best thing to do is subscribe to our newsletter for the latest.
Over to you…
If you have used our Just Gaia local delivery service, please use the box bellow to comment what you think.
Just because we love this, and are clearly very excited about it as you can tell, we know that people reading this want to hear the experience of those who've used the local delivery service.
Drop what you think below and it will be of real help to someone.
It'll also help with our feedback so we can make sure everything is to the high standard we expect to deliver for you all.
I can't wait to read them all and will get back to you as quickly as possible.
Thanks Just Gaia Family. See you soon.