Now, this natural Costa Rica speciality coffee tin is one for people who prefer a sweeter coffee this is the one to try. This coffee is made using a "honey process" for more sweetness.
While there's no actual honey used, there is something special about this method.
The beans are left to dry in the husk of the plant as it's harvested. It picks up more fruity flavours and syrup this way.
Meaning that when it gets roasted and into your cup, you get a burst of flavour. First the rich coffee, then the fruit and sweetness.
If you are looking for something quite fruity in your coffee. Or you want to cut down on sugar, this is a great coffee to drink without it.
So, if you fancy trying this natural Costa Rica speciality coffee you can grab it as whole coffee beans or freshly ground in-store. Coffee is ground to order in our shop to ensure it's as fresh as can be when you make it.
Sound like something you'll like? To make it easy, you can use the quick button below to add on a single click. If you need an alternative option, please use the link buttons to our grind-to-order coffee or coffee refills.
Add To Your Basket  I Want This Ground Instead  I Need a Refill
Costa Rica Speciality Coffee Tin – Coffee Flavour
This is a fruity sweet one! Lots of rich coffee going on too, but you'll soon taste the dark cherry notes and citrus acidity. It's sweet without lacking some punch and spice in the aftertaste.
Something a bit unique here, and one for those trying to lower the sugar content. Or, if you are fasting and need a coffee you can drink black this really is a good option.
Roasting
This coffee is roasted at the Bean Brothers roastery in Huddersfield and uses ethically sourced beans.
Everything is roasted in small batches and to the freshest, we can get it for you, with us making regular orders for this to arrive in store at it's best. This coffee is roasted medium to dark using a mix of natural beans and washed.
Metal Clip Lock Tin Packaging
As you likely know already, we are a plastic free shop and do everything we can to be sustainable with what we do. This extends to all our speciality coffee too.
With this option, you will receive your coffee in a metal clip lock tin. These are reusable and single-use plastic free and great for storage at home. Once you have one they are reusable, you can feel free to buy refills from us to the same quantities and reduce packaging.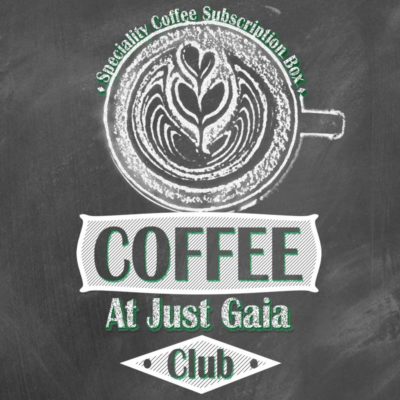 Our Thoughts…
As someone who's a fan of a sweeter coffee, this really is one to give a try without the sugar if you take some right now.

The natural process here means the bean is held in the husk to dry, picking up really punchy fruit syrup as a result. Lovely coffee taste but also a perfect sweet tasting coffee if you want to ease off the sugar.
Ross, Just Gaia's resident coffee lover
More information about ordering with Just Gaia