Oh, you know there is a lot of love for South American coffee, and this single origin Columbian speciality coffee proves why. If you've enjoyed some amazing coffee from this region in the past, you'll love this.
Often being somewhat guilty of over-roasting for the dark flavour, this more medium roast gives more room for the flavour to really hit you.
It's still rich, chocolatey and earthy as you expect from a Columbian coffee. But it's also got some sharpness, even a hint of caramel-like sweetness to it.
A big favourite since we launched it in the Just Gaia coffee and one that will certainly wake you up in the morning. Or give you that extra kick in the afternoon if you need one!
So, if you fancy trying this Columbian speciality coffee you can grab it as whole coffee beans or freshly ground in-store. Coffee is ground to order in our shop to ensure it's as fresh as can be when you make it.
Sound like something you'll like? To make it easy, you can use the quick button below to add on a single click. If you need an alternative option, please use the link buttons to our grind-to-order coffee or coffee refills.
Espresso Grind Filter Grind Cafetiere Grind
Alternative Single Origin Columbian Coffee Options
Loving the sound of this coffee but need this as a refill or as just coffee beans? Use the links below.
 I Want This As Beans Instead I Need a Refill
Single Origin Columbian Speciality Coffee Flavour
This single origin gives you a strong, earthy taste with a flavour of dark chocolate and caramel plus a bit of citrus aftertaste in there too. It's a new one to our range but was an instant hit.
This works beautifully as an espresso or filter coffee at home. Also works nicely in a flat white or taller milk-based coffee like a latte or cappuccino. A great all-rounder.
Roasting
This coffee is roasted at the Bean Brothers roastery in Huddersfield and uses ethically sourced beans.
Everything is roasted in small batches and to the freshest, we can get it for you, with us making regular orders for this to arrive in store at it's best. This coffee is roasted medium to dark using a natural process. This means the beans are allowed to dry out naturally leaving more flavour around them compared to fully washed beans.
Craft Paper Tube Packaging
As you likely know already, we are a plastic free shop and do everything we can to be sustainable with what we do. This extends to all our speciality coffee too.
With this option, you will receive your coffee in a special kraft paper tube. These are 100% plastic-free and good for storage at home. Once you have one they are reusable, you can feel free to buy refills from us to the same quantities and reduce packaging. Once no longer usable, it can be home composted or recycled.
Try to avoid contact with water given they are paper but, for keeping your coffee fresh they are excellent.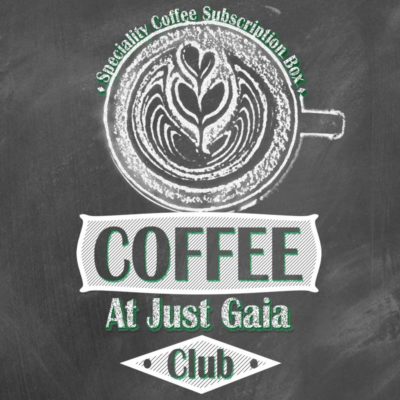 Our Thoughts…
Columbian coffee has been a big favourite for coffee drinkers in the UK for some time. It can be over roast though and lose some of it's unique flavour.

This medium roast coffee delivers that strong, rich flavour but also adds some sharpness and a lovely aftertaste that will leave you craving more.
Ross, Just Gaia's resident coffee lover
More information about ordering with Just Gaia