Ok, there is some challenges around getting amazing decaf speciality coffee. Mainly, it's not the main reason the majority of people drink the stuff!
But, for those who need decaff or want a coffee without the risk of ruining your sleep, this is a perfect decaf for you.
It's rich, chocolatey and on the darker roast side. Meaning you get the flavour and the punch of a real coffee but without the issues of some decafs.
You won't be hit by over bitterness. But, it's not weak and tasteless either. This really will make you believe you're drinking the real thing
So, if you fancy trying this decaf speciality coffee you can grab it as whole coffee beans or freshly ground in-store. Coffee is ground to order in our shop to ensure it's as fresh as can be when you make it.
Sound like something you'll like? To make it easy, you can use the quick button below to add on a single click. If you need an alternative option, please use the link buttons to our grind-to-order coffee or coffee refills.
Add To Your Basket  I Want This Ground Instead  I Need a Refill
Decaf Speciality Coffee Flavour
I know what you are thinking, does the actually taste like "real" coffee. This is one of the most convincing, rich decaf coffee's we've tried. There is a darker roast here for richness, without tasting burned or weak like some decaffeinated coffee options.
We use this both in filter coffee and pushed into espresso and mixed with milk lattes and flat whites and the rich, chocolate and caramel comes through nicely. You might even forget it's a decaf it's so well balanced!
Roasting
This coffee is roasted at the Bean Brothers roastery in Huddersfield and uses ethically sourced beans.
Everything is roasted in small batches and to the freshest, we can get it for you, with us making regular orders for this to arrive in store at it's best. This coffee is roasted medium to dark using a mix of natural beans and washed.
Craft Paper Tube Packaging
As you likely know already, we are a plastic-free shop and do everything we can to be sustainable with what we do. This extends to all our speciality coffee too.
With this option, you will receive your coffee in a special kraft paper tube. These are 100% plastic-free and good for storage at home. Once you have one they are reusable, you can feel free to buy refills from us to the same quantities and reduce packaging. Once no longer usable, it can be home composted or recycled.
Try to avoid contact with water given they are paper but, for keeping your coffee fresh they are excellent.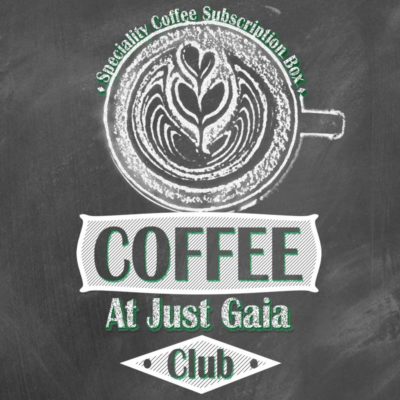 Our Thoughts…
I'm not a person that needs decaf usually, but I do like a coffee later in the day and I have this as either a filter or flat white in the evenings when I don't want to keep myself up all night!

It's rich, full of flavour and to be honest it's hard to tell it's not regular coffee. A hugely popular option in the cafe at Just Gaia too, well worth a go if you feel the need to calm down the caffine.
Ross, Just Gaia's resident coffee lover
More information about ordering with Just Gaia